Wild Blue at Waterside in Lakewood Ranch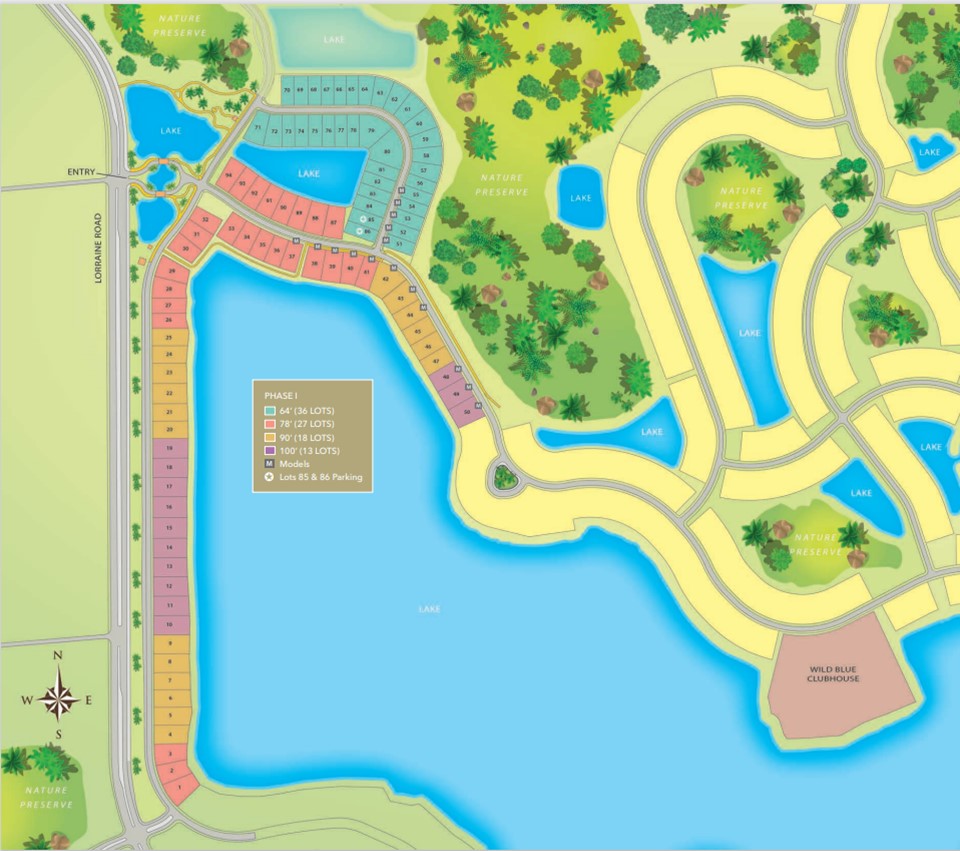 Builder: John Cannon Homes
**Location:** 8307 Lake Club Blvd., Lakewood Ranch, FL 34202
Wild Blue at Waterside is the perfect community for those seeking luxury, a connected and relaxed coastal vibe, and a wide range of social and active lifestyle amenities. Our custom-designed homes offer spacious living spaces, ranging from over 4,500 square feet on one-acre homesites. With breathtaking nature and waterfront views, these homes feature floorplans that include expansive outdoor living areas, allowing you to fully embrace the incredible Florida lifestyle!
**Lot size:** 3/4 acre and larger
**Home size:** 3,300 square feet and larger Lot prices start from the mid $800,000s, while home prices start from $2 million and above, including the homesite.
Experience the epitome of luxury living at Wild Blue at Waterside!
---
Other Lakewood Ranch New Construction Communities
---
---
Lakewood Ranch Parks
Adventure Park
Address: 6215 Lorraine Rd, Lakewood Ranch, FL 34202
Playground area with swings, slides, and climbing structures
Picnic tables
Walking trails
Open green spaces for recreational activities
---
Bob Gardner Community Park
Address: 2710 White Eagle Blvd, Lakewood Ranch, FL 34211
Multiple baseball fields
Soccer fields
Tennis courts
Playground
Walking trails
Picnic areas
---
Greenbrook Adventure Park
Address: 13400 Adventure Pl, Lakewood Ranch, FL 34202
Large playground
Basketball courts
Skate park
Dog park
Picnic pavilions
Scenic walking trails
---
Heron's Nest Nature Park
Address: 11810 Heron's Nest Terrace, Lakewood Ranch, FL 34202
Walking trails
Observation decks
Picnic areas
Diverse wildlife, including various bird species
---
Lake Uihlein Park
Address: 5855 Masters Ave, Lakewood Ranch, FL 34202
Fishing pier
Kayak launch
Walking trails
Picnic areas
Playground
Open spaces for recreational activities
---
Summerfield Community Park
Address: 6402 Lakewood Ranch Blvd, Lakewood Ranch, FL 34202
Multiple soccer fields
Baseball fields
Tennis courts
Playground
Picnic areas
Walking trails
---
Bob Gardner Park South
Address: 2710 White Eagle Blvd, Lakewood Ranch, FL 34211
Softball fields
Football field
Walking trails
Picnic areas
---
Country Club East Park
Address: 16615 Collingtree Crossing, Lakewood Ranch, FL 34202
Walking trails
Picnic areas
Playground
Basketball court
Dog park
---
Summerfield Park
Address: 6402 Lakewood Ranch Blvd, Lakewood Ranch, FL 34202
Playground
Basketball court
Picnic areas
Walking trails
Open spaces for recreational activities
---
Greenbrook Park
Address: 13400 Adventure Pl, Lakewood Ranch, FL 34202
Playground
Basketball court
Picnic areas
Walking trails
Open spaces